Easy Printable Greeting Card Ideas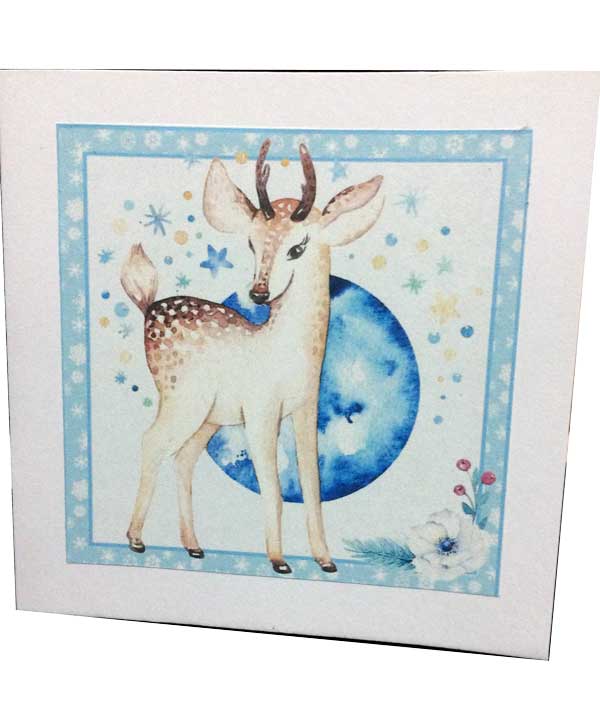 Very quick and simple to make - one strip of folded card and a topper.
Easy printable greeting cards are ideal for those times when you just need a card with as little fuss as possible, you're making in bulk with groups or you're a new at making handmade cards.
Many of our card kits are pretty quick to make, but these are super quick!
Quick cards are great for:
✔️ New cardmakers, groups, busy mums, big families and those not good with cutting (you can use a trimmer as most of these quick card ideas are straight line cutting)

✔️ Bulk cardmaking / production line for craft fairs or fundraising, last minute Christmas cards
✔️ ideas to keep the kids entertained for a while

Quick cards are designed to require just a little cutting and folding in the case of multiple 'production line' type sheets i.e. getting as many cards from one sheet of paper as possible (great for kids Christmas cards!)

 Card Toppers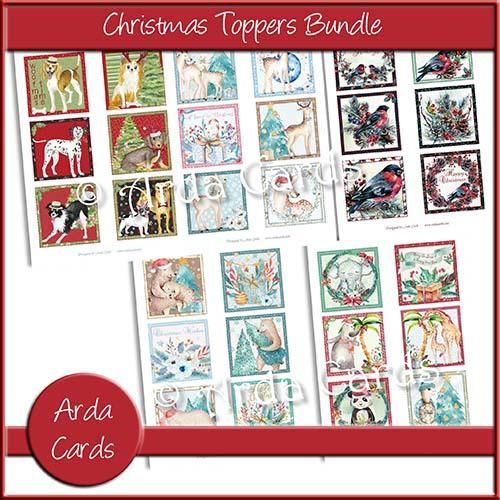 Bundle of toppers for lots of quick printable Christmas cards
Card Toppers are a really easy way to make quick handmade cards! 
All you need to do is print the topper onto paper or cardstock, cut it out and stick it to your card base.  If you use normal printer paper, any thin printing paper, try avoid wet glues as these will buckle the paper - use glue stick, double-sided tape or if you don't have any glue, cut small slits into the corners and poke your topper corners through (like in a photo album).
This means you can use anything you like as your card base, whether it's a recycled piece of waste card, cheap plain white, eco Kraft card, or a special piece of textured card. 
Card toppers can be left as they are, or you can decoupage them or decorate  with extra embellishments if you have a craft stash.  

 Card Fronts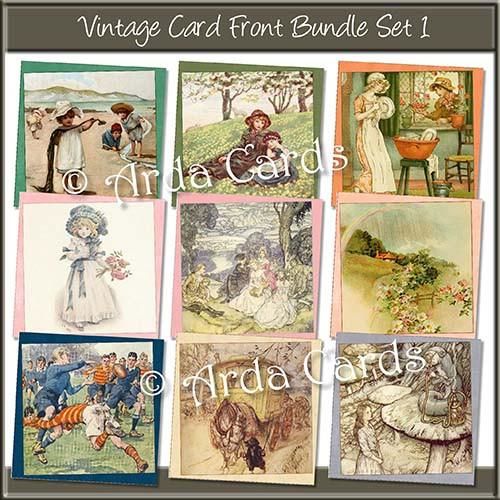 Vintage Card Front Bundle
Card Fronts are another super easy way to make quick handmade cards, very similar to the ideas of card toppers but the images tend to be bigger, making a 'full' card size (whereas Toppers are smaller and can be grouped together to make a full card).  Sometimes Card Fronts will also include extra embellishments to cut and use on your card if you wish.
 As with Toppers, simply print onto card* and then stick to a card base - again you can use recycled waste and the fronts will cover anything with printing on one side, but as these tend to be quite large, speciality card would be a waste as you would be covering it all up, unless you had a small border. 
*Printing onto card is recommended because the images are larger, but you could probably get away with printing Fronts onto normal paper if it isn't too thin - try it out before doing a large run!
If your download comes with extra elements to add to your card, for example decoupage pieces, greetings or faux paper ribbon strips, cut these out and stick onto the card front.
 Pyramage Cards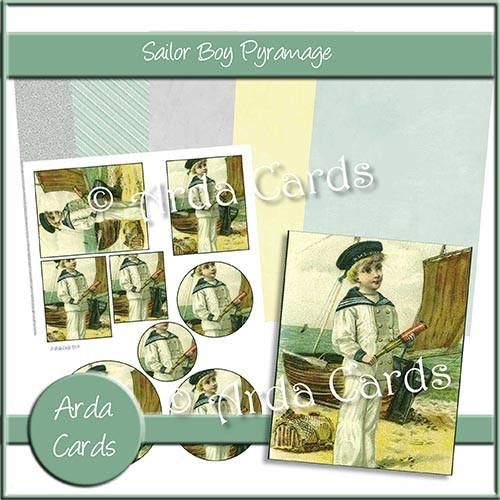 Pyramage sheets for making quick cards
Pyramage cards are an easy way to try something a little more adventurous , by layering up an image on your card similar to decoupage, but with no fussy cutting.
We have pyramage topper sets, which come with additional printable papers and are easy to add to card backing of your choice (as described above in the Toppers section) and pyramage card kits, both regular and twisted pyramage, which are pre-designed and usually come with envelopes to get you started.
Apologies - the video isn't great quality but you get the idea!

Multi Card Making Kits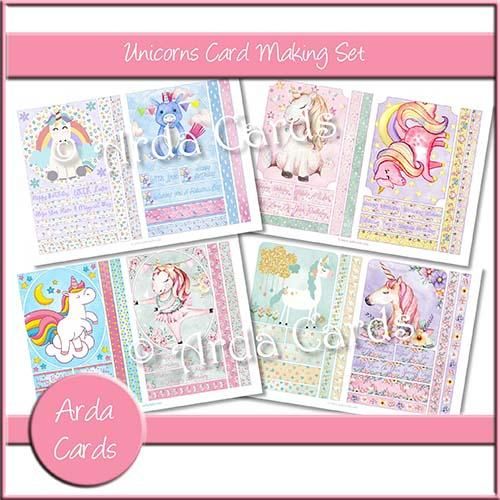 Unicorn Multi Card Making Set with Toppers, Greetings and Paper Ribbon
A multi card making kit combines toppers, card fronts and various embellishments in printable sheets that offer many design possibilities, depending on what you want to try.
The benefit of using one of these sets is the wide variety of cards you can make from just one set: check out 'card sketches' and magazines for inspiration, or create your own ideas.
Please note - unlike most of our card kits, some of these printables don't include a co-ordinated envelope, but you can get our printable envelopes if you need them!  Anni Arts card making kits do have co-ordinated envelopes, see below.
This card was made using a floral card making set with the topper and greetings cut from one of 8 printable designs in the set, then stuck to cardstock and a background paper with fabric flowers to decorate.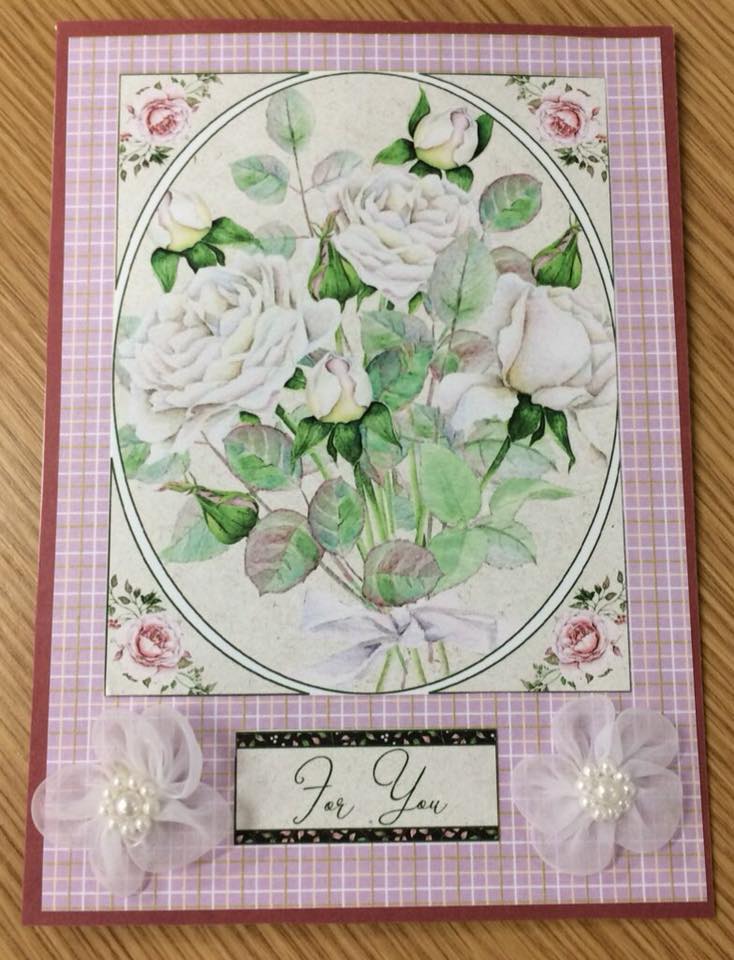 Anni Arts Multi Card Making Kits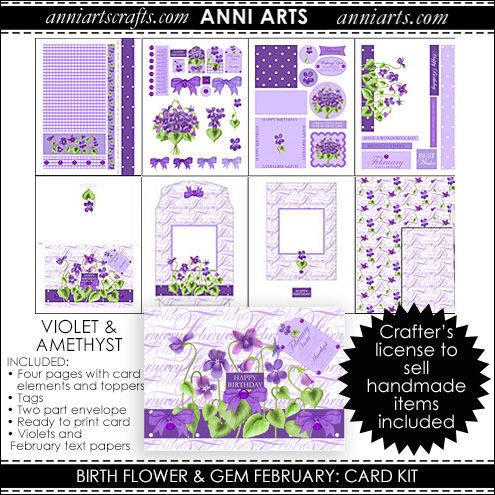 Anni Arts Multi Card Making Kit - February Birth Flower
The multi card kits from Anni Arts are a little different in that they are based around themed printables e.g. birth flowers, and available in co-ordinated bundles with gift boxes, chocolate wrappers etc   Please note:  if you want to use Anni Arts printables in groups please contact us for licensing options.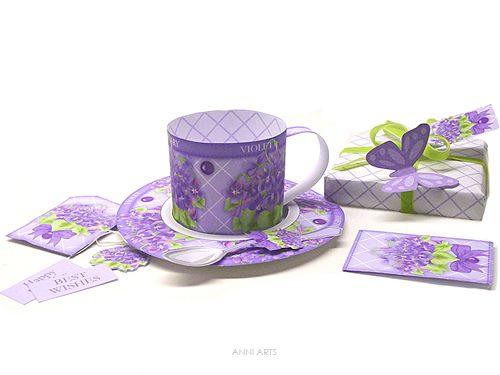 Card Making Inspiration
Card Sketches
Card sketches help you make your own cards quickly by providing lots of ideas for layouts: use with our multi card making kits and printable papers and never be stuck for inspiration again!
One Sheet Cards
If you need to make many cards quickly, you could try the 'one sheet wonder' technique where you divide up a single sheet of patterned paper to make several different cards in various designs. 
To try this you just need a single sheet of paper - we have various printable papers in themed collections of their own as well as part of the topper downloads and most of our card making kits come with backing papers too.
You will find lots of inspiration and 'cutting' suggestions for one sheet wonder cards on Pinterest:
We hope we've given you some inspiration for making quick cards - if you fancy trying something a bit more adventurous, check out our card making tutorials for various crafty card ideas.
Looking for printable activities for elderly people?  See how one charity uses our downloadable cards and crafts for their over 60s card making group - including as activity packs during lockdown.