Creativity is good for your wellbeing.
We believe in creative self-care using art and crafts as a means to positive mental health and resilience, whilst diverting usable supplies from landfill and putting them to good use in the community.
We want people feel good through creativity,
whilst creating jobs, work experience and volunteer opportunities 
🫶
Magistrates Market, Pontefract
Our Wakefield shop is now CLOSED - opening soon in Pontefract
Crafting4Good CIC will be opening a new kind of 'creative treasure trove' after the closure of our Wakefield one.

We will be one of the sellers in the Magistrates Market in Pontefract - an historic market town, complete with castle and a great deal of history, close to Wakefield city centre.

Supporting Mental Health & Our Environment
Our feelings around creative self-care come from personal experience and the need to discover practical ways to develop resilience and wellbeing, heavily influenced by:
Positive Psychology
Art Therapy & Expressive Arts
The 5 Ways to Wellbeing
We also saw that there were people needing access to creative supplies for their mental health and those very same supplies being thrown away for various reasons - so we connected them together. 
Now, unwanted art and craft supplies are made accessible to people who need to use them to take care of their mental health and wellbeing.

Environmentally Driven ♻️
It's extremely important to us that we're as eco-friendly as possible in all we do, from recycling and diverting unwanted creative supplies from landfill, to using recycled, ethical or sustainable goods and services. 

7 tonnes
So far, we've diverted 7 tonnes of unwanted art and craft 'waste' from potentially going to landfill
♻️
Apologies but we cannot take donations at the moment - please check options local to you here:

Business for Good 🫶
100%
All income is reinvested into our social purpose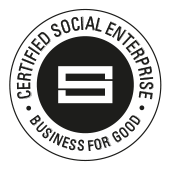 Crafting4Good CIC is a nonprofit 'Community Interest Company' which exists to benefit the community. 
Also known as a Social Enterprise, it means we 'trade' as a business purely for 'good' social reasons.
The more income we generate from 'waste' and unwanted arts and crafts, the more people we can benefit and the bigger the impact we can have on mental health and society.