Cat Printables
Take a look at our fabulous cat printables, all of which help support our not-for-profit social enterprise if you purchase for yourself or your group AND you can Sell What You Make.
Very cute Pop Up Box card also available with 14 other designs in our big value Christmas Pop Up Box Bundle - perfect for groups, craft sellers and families.  You can see how to make one of these handmade cards with our step-by-step Pop Up box tutorial and video page.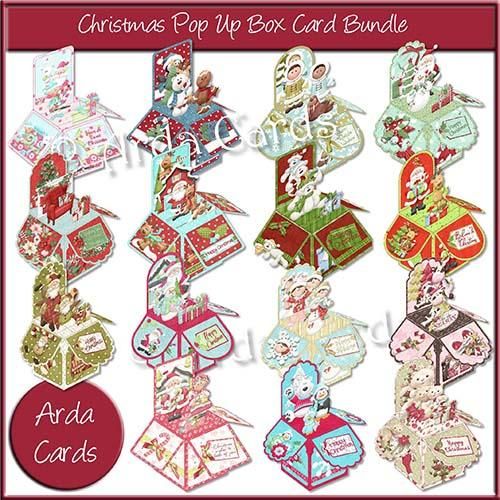 Christmas Pop Up Box Bundle of 15 designs, including the Purrfect Christmas kit.
Other Pop Up Boxes with Cats!
Easel Card
Another 3D card choice, this Easel Card with optional gift drawer features the same Purrfect Christmas design as the previous Pop Up Box.
Make the card on it's own, or add the drawer to the base for little gifts.
See how to make one of these from our printables with our Easel Card with Drawer tutorial and video page.
Hanging Organiser
Create a gorgeous hanging organiser with the choice of different main pages - blank, You, me and them weekly calendar and 2 different weekly planner pages. You can add either a long note pad or a short one with a handy little pocket for keeping bits and bobs safe.
Comes with a tutorial, but you can also download the PDF here: Hanging Organiser Tutorial
Want to design and/or sell your own?  There's a Hanging Organiser & Note Pad Commercial Use Template available too!
Recipe Book
This cute recipe book is a version of our Ultimate Planning Books.
The kit contains dividers and sub-dividers with blank labels and pre-typed labels for different types of recipes, index pages and blank sheets for the recipes.  It also includes panels for the front which say Mum's/Mom's, Grandma's, Family and My Recipes, plus one with a space for a name, one which just says Recipes and one blank. 
Want to design and/or sell your own?  We also have an Ultimate Planner Commercial Use Template
Check out the video for how to make these fantastic printable planners...
Quick & Easy Card
Make a super quick and easy handmade card for a cat lover - simply print and stick to the front of a piece of cardstock, and decorate with the optional decoupage elements if you wish.  This download makes a 6x6 inch card as is, but you could also make your own designs using the decoupage sheet.
Check out quick printable greeting card ideas for more ways to make quick handmade cards.
Pyramage
Pyramage means stacking repeating images, cut slightly smaller than each previous image to create a 'pyramid' effect.  This download includes rectangle and round pyramage toppers with 5 coordinating A4 backing sheets.
Each kit has 2 cute kitten pyramage shapes in one download with multiple printable papers for you to get creative either with the supplied images or your own creations later! 
Never Ending Card
Make a card with a difference - never ending cards open up in multiple ways and this one is such sweet little cats. Sentiments included read Happy Birthday, Happy Mother's Day, Happy Father's Day, Get Well Soon, To You, Daughter, Son, Granddaughter, Grandson, Mum, Mom, Dad, Granddad, Grandma and one blank for your own message.
This design is available in a big value bundle of 12 Cute Animals Never Ending Cards.
We also have a Never Ending Card Commercial use Template if you want to design and/or sell your own.
See how to make one of these fabulous moving cards with our Never Ending Tutorial and Video.
---
---
---
Support Independent Bookshops