The Unremembered Project
See all resources and activities on our Facebook Hub
We are taking part in a community engagement project called The Unremembered: World War One's Army of Workers and will use this page to document our progress through November 2018.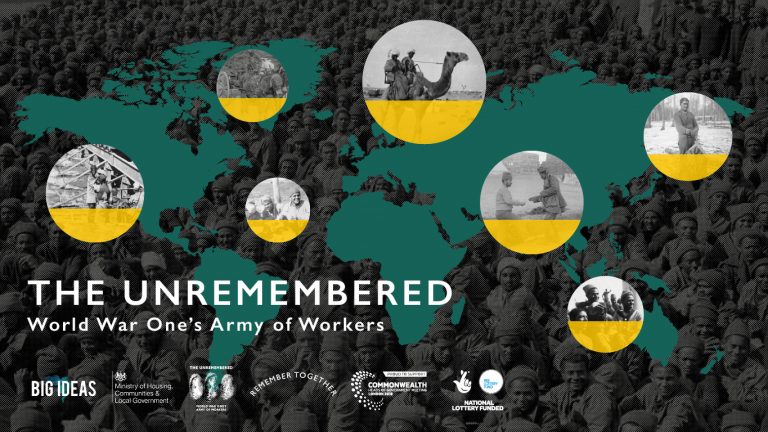 The Unremembered: World War One's Army of Workers is a community engagement programme commemorating the courage and contribution of the Labour Corps during the First World War. It is led by Big Ideas and publicly funded by the Ministry of Housing, Communities, and Local Government (MHCLG) and a National Lottery grant from Big Lottery.
Coordinate the Troops
The project requires that we get 10+ groups together to commemorate the Labour Corps.  There is also a tight deadline.  Groups can be anyone, informal or formal but must be 8+ people.  Activities and events can be anything too, as long as we engage with the resources provided by Big Ideas and come up with some great ideas of our own.  
Because we are based in Wakefield we were initially given a name, Harry Kershaw, to hold up to camera and have a photo taken.  When we looked through the Unremembered database though, there were others from Wakefield including one young man from around the corner from us, so it seemed only right that we remember them all and try learn something more about them and their lives, ending up with some creative activities to remember them and the Labour Corps.
We have applied to become a Big Ideas Hub and hope to reach groups in Wakefield but also online, since we can count that as a 'community group' too - there are, after all, many people who cannot attend community groups and feel excluded, so online engagement is their only option.  
To start off the process, we have created our own project group which you can join at any level:
Simply learn more about the Labour Corps*, or
Tell us you'd like to take part in some way (crafting, family history research etc) or
Add an event that your group can do
*Even just joining the group and looking at the resources we are uploading will help show 'community engagement and remembrance', so please do take a look.
We only have a month, so we will do what we can do!
Crafting4Good CIC - The Unremembered Project Group
Facebook Group · 4 members
| | |
| --- | --- |
| | Join Group |
Our Unremembered project group brings interested people together to learn, work on ideas, share resources, research and activity photos. The Unrememb...
Remembrance Crafts & Activities
We became an official 'Community Hub' for the Big Ideas Unremembered Project and have managed to engage various community groups to take part in their own way, including adults with learning disabilities, mental health and dementia groups.
Medals & Trailing Poppies
Memory Lane Cafe, Castleford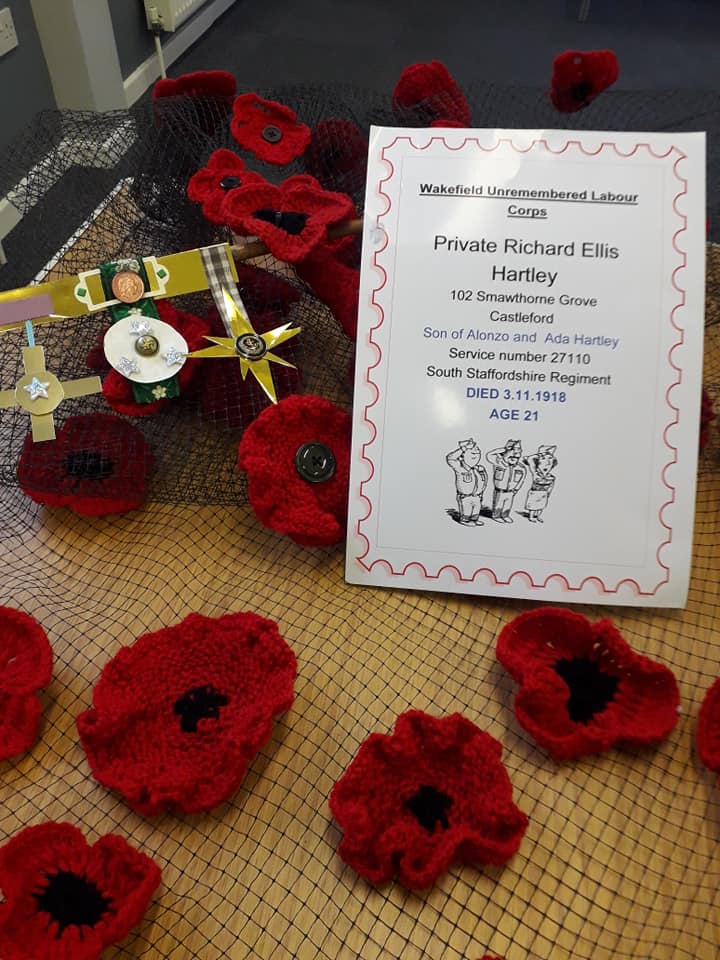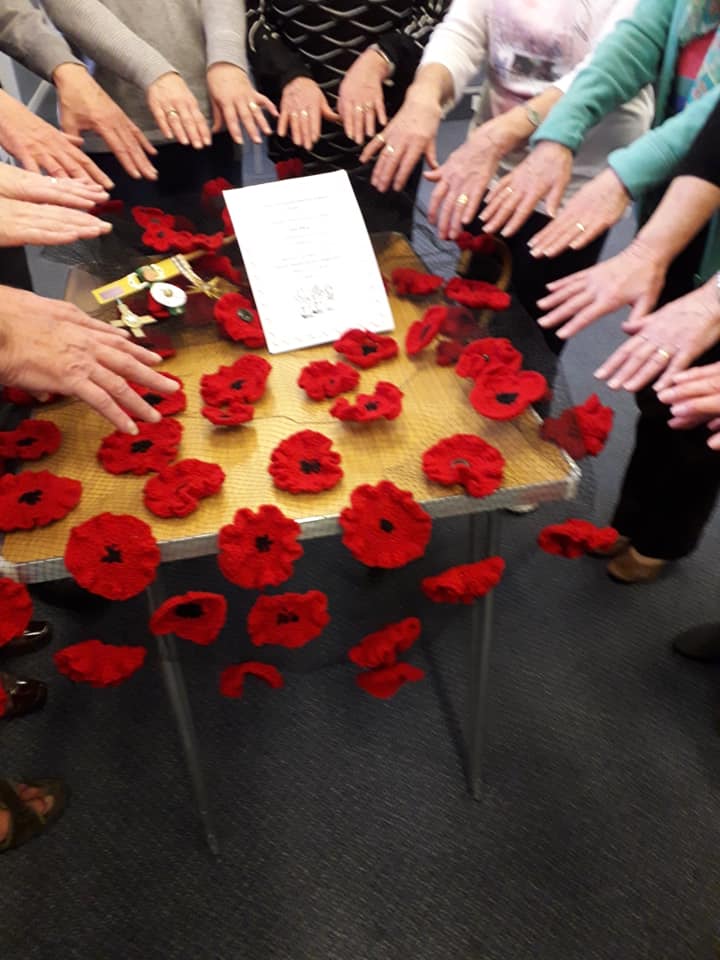 "At our Memory Lane Cafe in Smawthorne Community Project we remembered private Richard Hartley who died on the 3rd November 1918. We chose this serviceman because he lived at an address not far from were we are. We honoured him by making medals and pinned them to our crochet poppies"
Poppy Wreath
St George's Craft Group, Lupset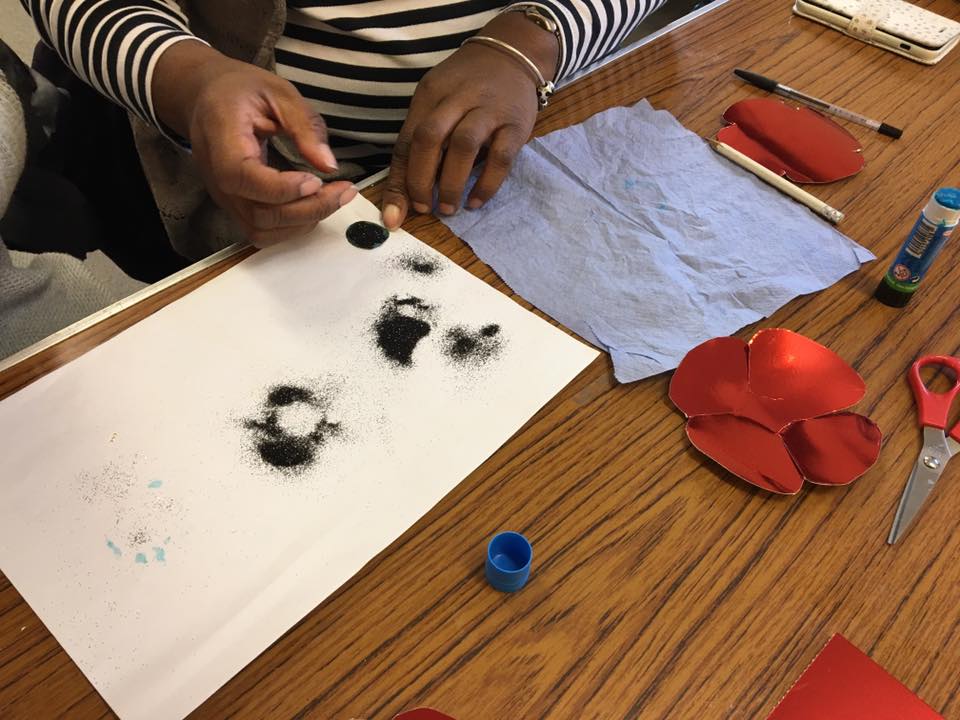 "We made paper poppies in class at St. George's this morning. White for peace, red as usual and purple for the animals in the war. Students drew them, cut them out, shaped the paper and added different black centres.  We all chose to shape them into a heart wreath and added 3 names on individual poppies. 
We remembered three men from central Wakefield: M Dickinson, from Thornes; A Warnes from Balne Lane and Harry Kershaw, from Dispensary Yard"

Memory Books & Scrapbook Page
Care Home Craft Group, Featherstone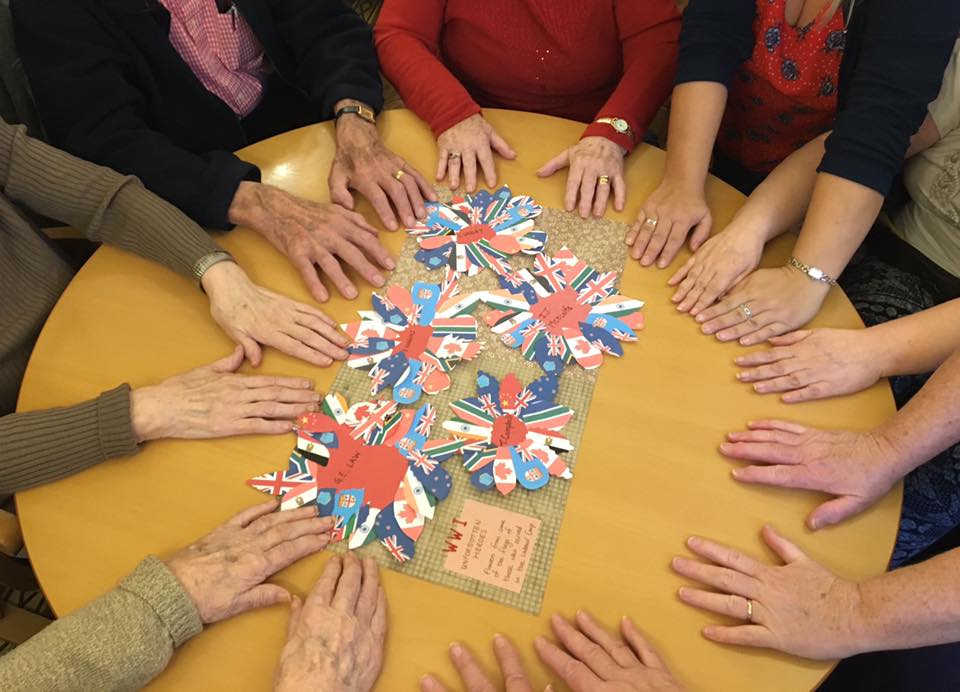 "In our Featherstone dementia memory books group, students cut some of the flags of the countries where some of the labour corp were from, into petal shapes. They put these together as flowers and added the names of those to remember from Castleford and Pontefract. The flowers were used to make a 'double scrapbook page' and journaling and a title were added. These will go into the memory book we have made for the care home and they will also make a page each about the project for their personal books"

Scrapbook Poppies
Scrapbooking Group, Wakefield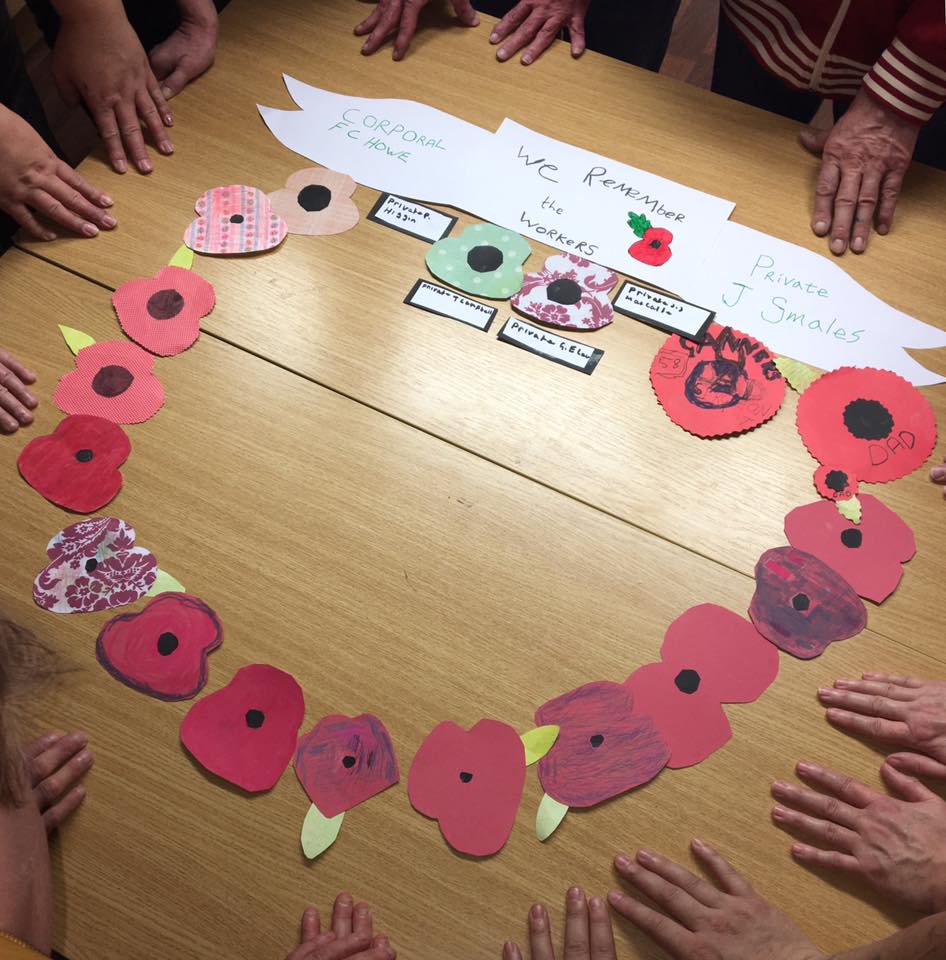 "Students in my Wakefield scrapbooking class made their own poppies, formed them into a wreath shape and added a banner with the names of 2 men on.  Another student wanted to include the names of others in Wakefield, so he did. Two students wanted to dedicate their poppies to their fathers who were in WW2, so they added their names too. These poppies will then be used on their individual scrapbook pages about the Unremembered project too."
Remembrance Painting
Art Group, Wakefield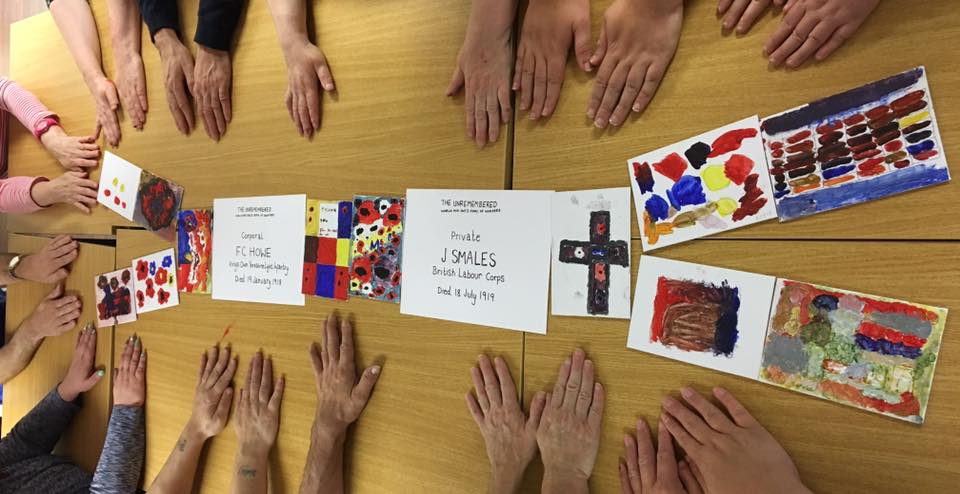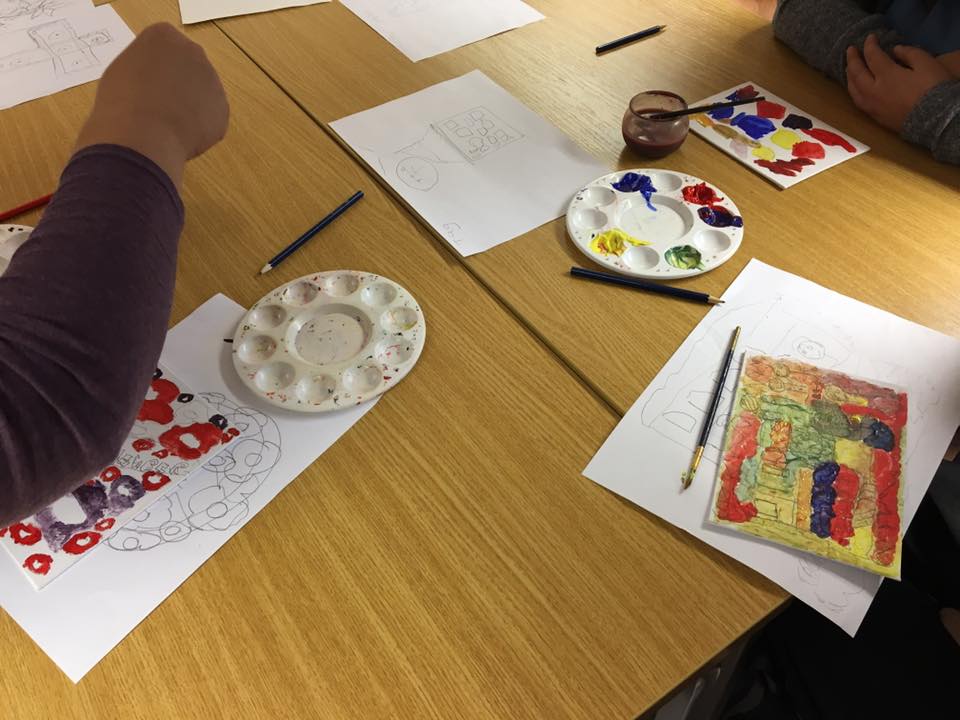 "We discussed the Unremembered using resources from Big Ideas and used an image of the Labour Corps badge as a prompt in the previous week's session.  Each student wanted to create their own image of remembrance. Today they drew them on canvas board, and painted with acrylic paint using brushes and palette knives, and did a lot of colour mixing.  As a group, we then created a banner shape with the individual paintings and added 2 names.  We remembered Frederick C Howe and J Smales both from Horbury"
Next: