Pop Up Box Cards
Pop up box cards are very popular - they lie flat in your envelope but emerge into a 3d shape with various characters standing up and out of the card.

Lots of Pop Up Box Cards
We have 100s of pop up box cards for instant download - just print, cut out and make (you can even Sell What You Make, see below).
Although these cards look complicated, they're really quite easy to put together - we have step-by-step and video instructions below. 
Most designs are available as individual kits or within a bundle with many kits in one convenient download (see below)

Possibly our favourite pop up box so far!  This stunning ladybird pop up box card is so bright and colourful - we had one on our counter top in the shop and it always got commented on (and purchased!)
Versatile Printables
The downloads include decoupage pieces which you can use or not, it's up to you - if you don't use them for your boxes, you can make other cards with your imagination!

Rectangular Pop Up Boxes
Rectangular pop up boxes are made in the same way but allow for more 'scene' to be displayed.
The video below shows what you get in a rectangular kit, but the contents are virtually the same for the standard square base kits too - the only difference really is the shape of the base card, envelope and the width of the insert panels.
Pop Up Box Bundles
For the best value, consider downloading a bundle of designs.- it's one convenient download with various designs.
At the time of writing, we have 5 square bundles, a Christmas bundle and a rectangle bundle, but there will be more as they really are so popular; usually most of the singles will be included in one of them.
Bundles are also the best option for those looking for resources for group activities, as well as those wanting to sell what they make (see below) since they are one convenient download without having to browse through the 100s of designs that we have.
Free Pop Up Box Card
Added to our site as a Coronavirus lockdown activity, this fabulous pop up box card features an adorable beaver family with various sentiments included.  No need to check out, just scroll for the download button on the shop page then print, cut out and make.
Pop Up Box Step-by-Step Tutorial
Get instructions for making a pop up box from our step-by-step tutorial - the designs will vary but the process is mostly the same for both regular and rectangle pop up box cards.
Pop Up Box Card Video Tutorial
13 minutes - watch our volunteer crafter make up one of our pop up boxes from printable supplies.
Selling Handmade Pop Up Boxes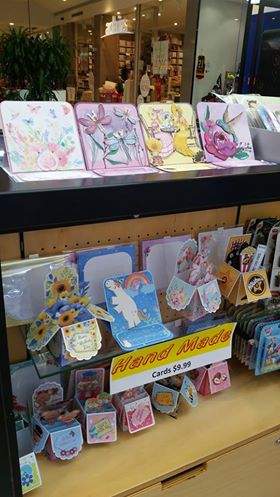 Selling Handmade Cards from Our Printables in Australia
A while ago we were thrilled when a customer sent us a photo of her 'stall' - she sells her handmade cards, made from our printables, in an Australian shopping centre. 
Most of our printables are 'Sell What You Make' for charity fundraising, craft fairs or even to give away for free at food banks, with our bundles being the best value for our craft sellers.  
Sell What You Make
Please note: selling the actual printable sheets is not allowed; you must make up the card or craft kit and sell them as handmade cards and crafts.

Pop Up Box Templates for Commercial Use
Want to design your own pop up box cards?  Maybe you want to sell your own printable designs - with our templates you can do just that!
We have  3 templates for the square boxes and one for the rectangular pop up boxes.
Design & Sell Your Own Pop Up Boxes
By using the Commercial Use templates you are allowed to design and create your own pop up box designs, even if you are wanting to make printables to sell online.