Fish Printables
Fabulous fish printables, and 'under the sea' designs, which help support our not-for-profit social enterprise when you purchase for yourself or your group.  You can also Sell What You Make and of course you can be creative and use the printables in any way you can think of, not just for making the projects as shown!
A personal favourite - such a fabulous bright pop up box card with a gorgeous seahorse too!  You can see how to make a card like this with our Pop Up Box Tutorial and Video.
This particular kit is also available in the big value bundle of 10 Cute Animal Pop Up Box Card Kits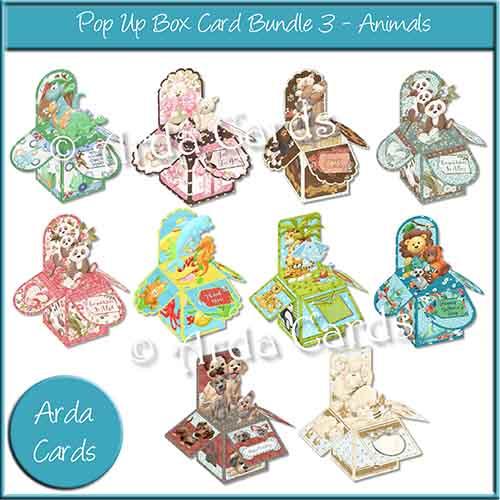 Cute Animals Printable Pop Up Box Bundle
Or maybe you'd like something even bigger than a fish?!  The whales on this Pop Up Box kit are so adorable, perfect for a kids card or adults who are fond of the ocean.
Pocket Card
Bright and cheery pocket card with choice of sentiment tags for the pockets including Birthday, Mother's Day, Father's Day, Get Well and one blank for your own message.
Also available in a bundle of 10 Pocket Cards
Pocket Card Bundle
Secret Treasure Box Fish Printables
A beautiful sea themed surprise box - it looks like a normal box but when you open it up there are 4 secret drawers inside for little gifts!  
See the video tutorial below for how to make your very own secret treasure box.
This is also available in a big value bundle of 20 Secret Treasure Boxes which would be perfect for groups, families, schools etc especially if you want to sell what you make for a fundraiser.
How to Make a Treasure Box Video
Printable Planner
Create your own printable planner, with a perpetual calendar, weekly planner, address book, notes, timetable, yearly overview and to do list sheets which are easily replaceable so you can keep using your planner year after year. Dividers are also included so you can have different sheets on the left side of the planner.  See how to make one with the video below.

Want to design and/or sell your own?  There's a Life Planner Commercial Use Template available too!
Also available in a big value bundle of 8 Kids Printable Life Planners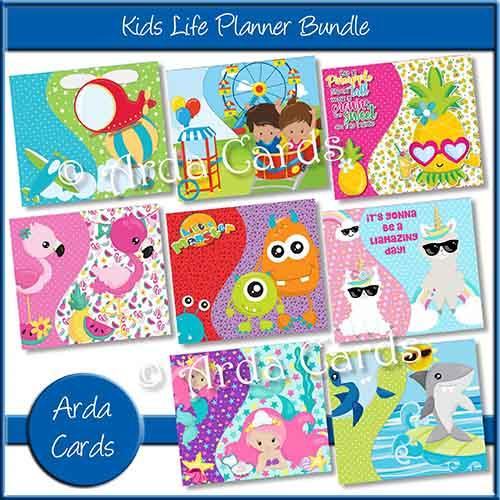 Bundle of 8 Kids Printable Planners
How to Make Printable Planners
3D Box Cards
Colourful box card with children diving to see the marine life, all in 3D decoupage.
Sentiments read Hope You Have A Great Birthday, Happy Father's Day, Get Well Soon and one blank for your own message. Includes a card box for posting.
The picture here doesn't do it justice - watch the video for how to make these.
Also available in our Box Card Bundle
How to Make a Box Card Video
Never Ending Card
Another non-fishy but still sea-themed kit for making a card with a difference - never ending cards open up in multiple ways and this one is such sweet little cats. Sentiments included read Happy Birthday, Happy Mother's Day, Happy Father's Day, Get Well Soon, To You, Daughter, Son, Granddaughter, Grandson, Mum, Mom, Dad, Granddad, Grandma and one blank for your own message.
This design is available in a big value bundle of 12 Cute Animals Never Ending Cards.
We also have a Never Ending Card Commercial use Template if you want to design and/or sell your own.
See how to make one of these fabulous moving cards with our step-by-step Never Ending Tutorial and Video.
How to Make a Never Ending Card from Printables