List Book with Optional Sticky Notes Craft Tutorial 
Optional sticky notes and pen holder
Extra To Do list pad from our Planner printables
Make a List Book, with or without sticky notes, from our printables: use it as a To Do list, a notebook for a particular project or even writing paper.  If you use brads to secure the pages you can just print more and re-fill it when necessary.
Our lovely Volunteer Crafter, Debbie has kindly contributed the written instructions, photos and video so you have a number of ways to follow this card making tutorial.

Craft Supplies Needed
This tutorial features the White Peonies List Book and the video also features the Dragonflies List Book, both of which are available on their own or in a big value bundle of 10. 

Brads (optional)
Glue/tape/3D foam pads for sticking
Score board/ruler/pencil
Scissors/trimmer/craft knife & cutting mat
Perforating score board or needle & mat (optional)

Print on card stock for all sheets (250gsm was used here but refer to your own printer capabilities)
Post-it or Sticky Notes* (optional)
Time to Make (after printing sheets needed):  Average 45 minutes

Instructions
1.  Print out the sheets in your kit and then, cut and score where indicated. 
If you have a perforating blade in your trimmer, perforate the tops of the notepaper.
Front and back cover
Note paper - 10 or 20 sheets*
Reinforcing panel - 1 or 2*
Backing paper printed on reverse of Front cover
*If you want to have 2 note paper panels, instead of using sticky note pads on one half, print 2 reinforcing panels.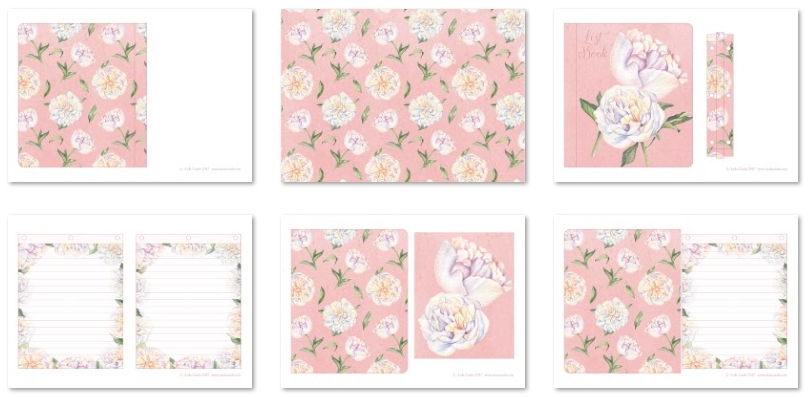 Printables in the downloadable kits
♻️ Green Crafting Tip: printing the backing paper onto the reverse of sheets with lots of white space means you can then use the 'waste' for other projects
2.  Fold and glue the page holder section and leave to dry.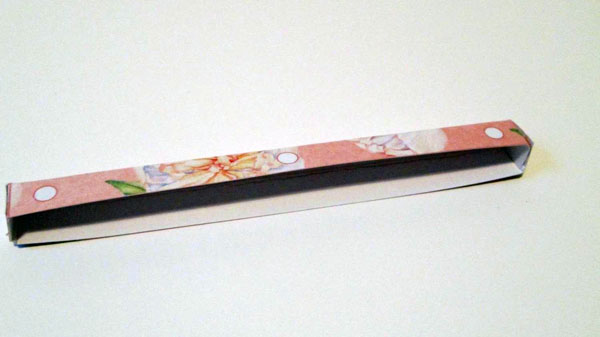 Page holder folded and glued
3.  Take the front and the back and glue them together.

Stick front and back covers together with double-sided tape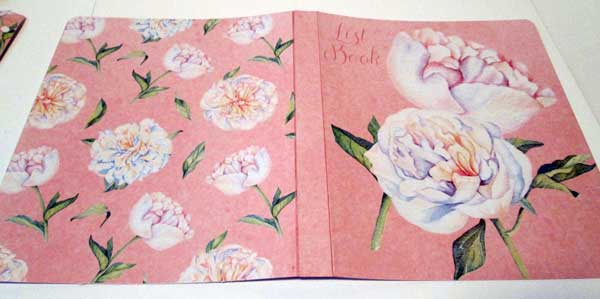 Front and back covers stuck together
4.  Turn over and glue the reinforcing panels to the inside of the front and  back cover.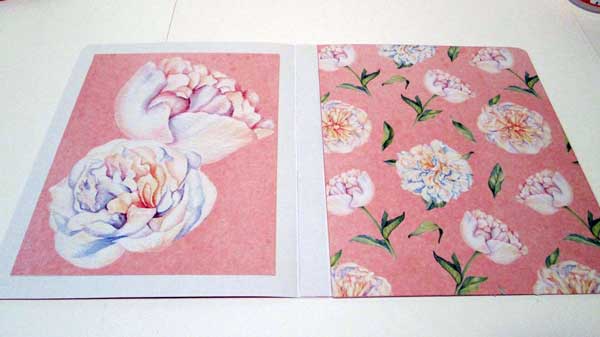 Stick the reinforcing panels inside the cover
Making the Book Re-Fillable (optional)
5. If you want to be able to re-fill your book when you've used all the pages, follow these steps, otherwise skip down.  Once the notes holder is dry, using a hole punch, punch out holes where indicated by white circles.  Do the same on all of the note pages.  Using a brad, push through the front of the notes holder, through the notes pages and through the back of the notes holder and open the ends of the brad to secure.
Holes to punch on holder and pages if you want a refillable book
6.  Using tape or glue, secure the holder to the back cover of the book.

Stick the holder to the back cover
Extra Ideas for this Card Kit
As shown in the images at the top of this page, there are various ways you can make or adapt your list book.
You can add a pen holder to your book by rolling card around the pen (abut 1 x 2 inches) and then sticking it to the hinge of the book (see video).


You can add Post-it® or sticky notes to the inside cover


Add more blocks of pages from our other printables e.g. Ultimate Planner printables
 
Decoupage the front or just glitter it up
Watch our video below to see how to make up list books, including these different adaptations.
ℹ️  Sell What You Make - you may Sell What You Make for charity, fundraising and personal profit in your small, home-based craft business
List Book Printables for Instant Download
We have a big value bundle for those who like a bargain, Craft Sellers, Groups and families, as well as individual kits available.  There's a List Book Template if you want to design, and even sell, your own.  We even have a 'colouring' version if you want to save your ink and colour in your covers and book instead.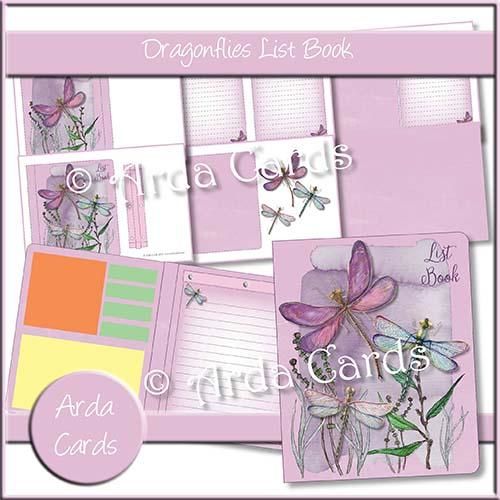 Dragonflies List Book Printables
How to Make a List Book Tutorial & Ideas