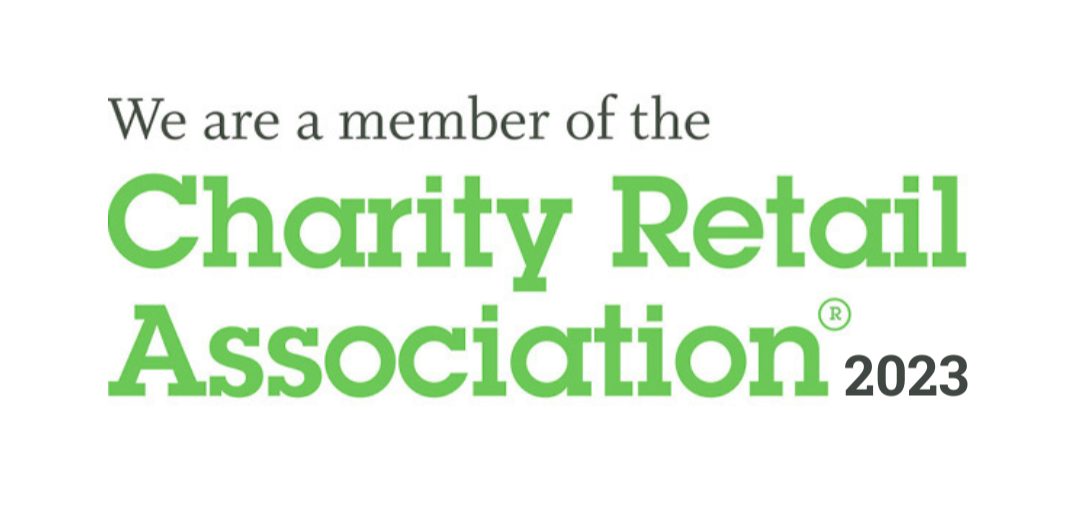 Donor Destash Story: Diane
The destash revolution that helped shaped what we are today was jump-started by one of our designers and a lady I didn't even know.  Not only did she offer to send some magazine freebies and bits she wasn't going to use, she also posted about us on her own Facebook group and got even more donations coming in from more people we didn't even know!    
We had always intended to run the donations scheme a bit later down the line but sometimes, people come along at the right time and give you that push.  Diane was there at the right time and, along with all the other early donors, helped start the foundations of what we have now...so this is our recognition of her impact on our social enterprise, and others around her, as a little thank you.

What Crafting Means to Diane
What I like most about crafting is that I can sit for hours doing something I enjoy: over the darker nights when it's so dull outside, I can sit happily colouring stamped images but it's the building of the finished card that gives the most pleasure, seeing it all come together knowing I did that!  It gives you some sense of pride.
How I Started Crafting
I got into crafting many years ago, my Nana taught me some knitting, I also learned a little embroidery at school.  Card making was something I kind of fell into after seeing how expensive a really nice card can cost and thought a card which was handmade was worth so much more as it was a card made with love, something money can't buy.
Proud Moment
Talking of a sense of pride, my best make has got to be the first ever attempt I made at a 4 Drawer Easel Card. 
This was an extra special card as it was for my sisters wedding. 
I stamped and coloured the image myself, so it was all done by hand from scratch.
Not only did my sister love it it was also featured on the letters page of a crafting magazine so it was a winner for me as well!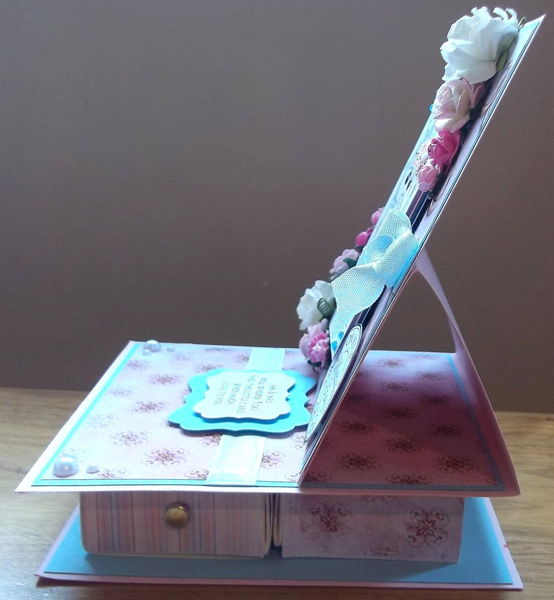 4 Drawer Easel Card Standing Mechanism
Favourite Crafts
Although making up 4 Drawer Easel Cards takes a long time I love making them, and the acetate boxes to present them in, but I also love decorating candles with stamped and coloured images - difficult to choose between the two as both involve stamping and colouring, which has to be the most therapeutic thing you can do!!
Crafting for All
I craft to pass time, to relax, though at times I have to admit to stressing over the odd card when I've made the silliest mistakes, but, it's all part of the learning isn't it. Anyone can have a go at crafting, I've taught my fiance a few things, he enjoys stamping and colouring, die cutting etc. so it's something anyone can try, no matter the age or sex, it's not only for older women, it's for everyone as there are so many types of crafting to enjoy.

Crafting for Charity
I've been involved in using my crafting to benefit charitable causes before, donating hand made cards to around 11 charities for around 2 years.  Crafters sent me their hand made cards and I would sort them ready to be passed on to the charities for that month, getting involved in things like that are a great way to share our love of crafting and being able to help charities at the same time.

Crafting for Charity
Use our printables to make cards for charity - buy them once and print as often as needed, no running out of supplies that you have to keep buying to restock.  Just print more.  Bundles or singles, we encourage you to be 'crafting for good' by crafting for charity.
Top 5 Craft Tips
1.  Patience, never give up, even our mistakes are made with love

2.  Enjoy, it is a hobby after all and hobbies are supposed to be doing something we enjoy doing, so just go for it

3. Be clever with your spending; never buy what you won't use (donate unwanted magazine freebies to someone who will)  This is a tough call for crafters who are usually like Magpies for the latest thing and most know all too well they have craft stash they will probably never use!  My essential crafting items have to be my pro marker pens and stamps, both rubber and digital.

♻ Donate Unwanted Magazine Freebies

Diane mostly donated magazine freebies which you get whether you'll use them or not, and if you don't they remain unused in bottom drawers...unless you donate them to us of course!  Magazine freebies are brilliant for us because we can give them free of charge and they are still 'new' if in their packaging.

4.  Don't be too self critical, we are all bad for it, comparing your work to someone else's isn't the way.  Also, let the creative juices just flow: if the "mojo" fails you, try tidying up your craft stash, you are bound to find things you forgot you had and this can often bring the "mojo" back!
5.  Have baby wipes handy, those things are useful for more than just babies bottoms!
♻ Eco-Friendly Wipes
Wipes contain plastic to make them durable.  However this also means they last a long, long time in the environment.
Consider making your own stamp cleaners with old rags or washed, used wipes - yes you can wash wipes and re-use them...because they're made to be durable after all!  Stamp off onto a deep damp cloth/re-used wipe, maybe adding a bit of glycerin or baby shampoo if needed.
Alternatively we recommend using biodegradable wipes made from bamboo or fabric without plastic in them.

Supporting Crafting4Good
When we first started, we had been doing craft sessions with some young men staying in supported housing - Diane decided to help get the ball rolling with donations and this is why she wanted to support us:
Taking crafting out to people who have had difficulties in life can only be a good thing, show them they are capable of more than they believe, crafting can help in many ways.  I suffer depression myself and know that I can get lost in my crafting rather than dwell on the things in life that can aggravate my depression, so showing people in the community that there are ways of dealing with things like depression in a non invasive way will only benefit those who take part.  It's also a way of bringing these people together, making new friends, knowing that there are others who are not so dissimilar to themselves.

How You Can Help
Anyone can be a Friend of Crafting4Good, in a range of different ways:
Crafting4Good Homepage  | Newsletter  |   Privacy  |   Press & Media |  Contact Us