Paperchase
Paperchase are a fun high street brand with online shopping offering personalised stationery and notebooks etc.  We love their wide range of Kraft products, being both recycled and customisable with your own stamped designs etc.  They also offer a "no points just perks" loyalty scheme (video at bottom of page)

You'll find lots of fun, affordable items especially for kids, teens and the young at heart!  Personalise your notebooks, scrapbooks and gifts for that extra special present.  Take a look at Paperchase if you're shopping for gifts, school supplies or a personalised present.  
Stationery (personalisation options)
Art & Craft Supplies
Pens, Pencils & Pencil Cases etc
Scrapbooks & Photo Albums
Journals, Diaries, Notebooks & Organisers
Gifts, Storage & Home
Cards and Wrap
Kids Zone & Pocket Money Buys
✔️  We particularly like their wide range of recycled fibre Kraft items with blank fronts and surfaces, ready for decorating with paints, doodling, stamping etc.
✔️  Furthermore, they have a Sustainable Timber Sourcing policy which states: 
"As of February 2017, around 90% of our timber suppliers hold Forest Stewardship Council (FSC) certification. The FSC is a global organisation that works to promote the practice of sustainable forestry worldwide. It sets standards for forest products and independently certifies that these standards have been met, before allowing their logo to feature on products that qualify"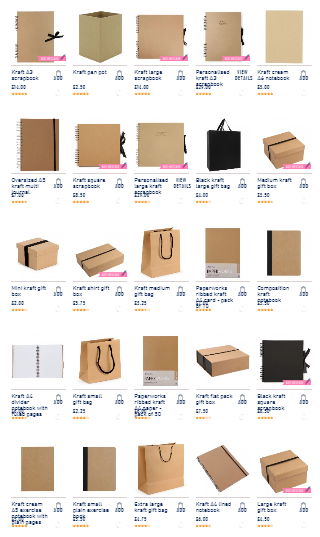 Kraft Items to Decorate
Customer Benefits
As a customer you can benefit from:
✔️ Personalised Gifts
✔️ "No Points, Just Perks" Treat Me Loyalty Scheme
✔️ Free delivery over £25

✔️ 10% Student discount
✔️ Click & Collect
✔️  International shipping
You're helping us too...

✔️  By shopping with Paperchase through links and voucher codes on this page, you are supporting our not-for-profit social enterprise
✔️  We will receive a small commission on your order value, at no further cost to yourself, which helps towards paying our website bills and real-world community work.
Discounts & Offers - June
Discounts, offers and voucher codes will be updated as and when they are released so do bookmark, follow us on Facebook or keep checking back.
50% off Big Sale, ends 9th July...