About Crafting4Good CIC
Crafting4Good CIC is a social enterprise that aims to make people feel good, whilst also thinking about the environment.
We believe creativity is a means to improved wellbeing and mental health, and can be done in an environmentally conscious way.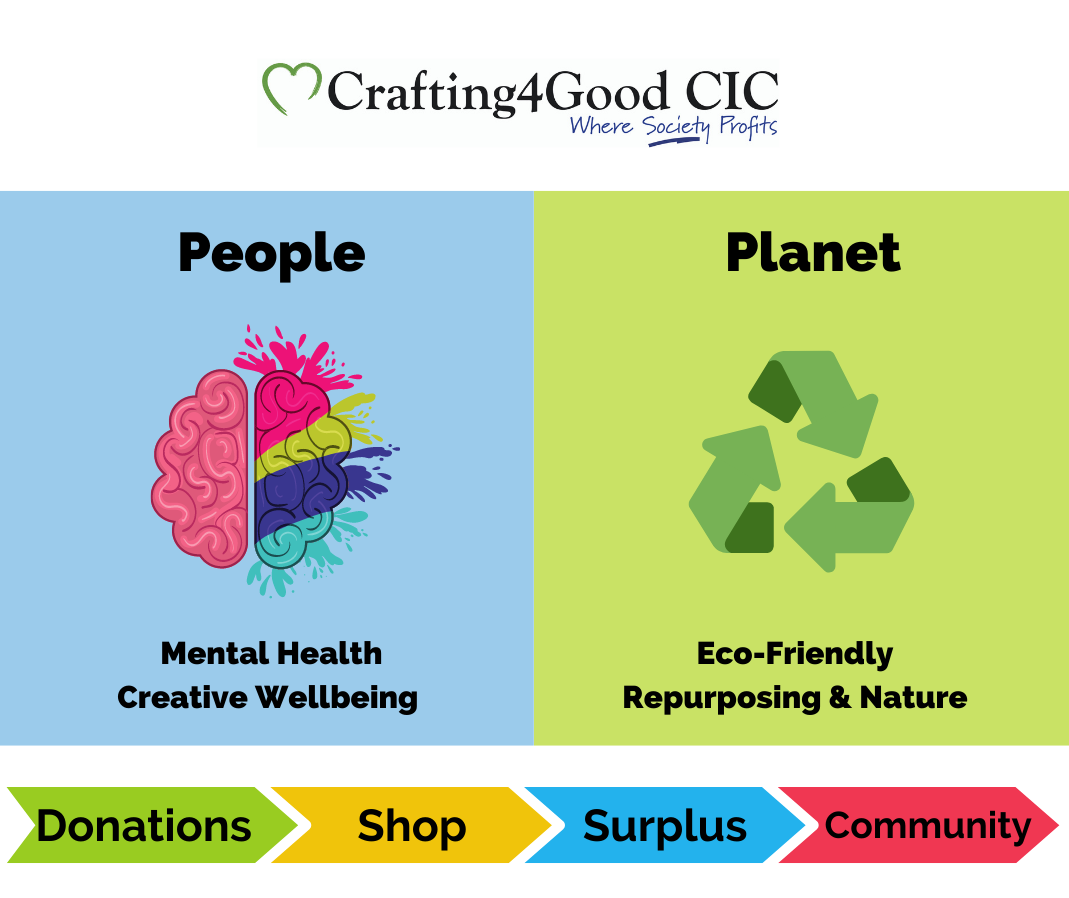 Community Benefit
"CIC" means Community Interest Company: a craft business with a bigger purpose and where everything we do benefits others. 
NonProfit
Legally, we are a nonprofit which means all surplus money and stock is put back into running the organisation and benefiting communities. 
However, a more appropriate term might be 'not-for-personal-profit' because as a CIC we need to trade in order to generate enough money to keep going AND give any profit, or surplus, away - so the more profit made, the more everyone benefits. 
A normal business makes profit for it's owners and shareholders, but we make a profit for people and our communities, especially those who need support with mental health.
Our Approach:
Unwanted Creative 'Waste' + People Who Need Resources
We take in donations of unwanted art and craft supplies and put them to good use, avoiding landfill and supporting community work. 
Most of our donations come from individuals who may have too much stuff to use it all, have had to stop creating due to age or disability or bereaved family members.  Increasingly, other businesses are donating their end-of-line art and crafts, seconds, offcuts and samples etc.
We split donations between selling supplies at affordable prices to suit all budgets, and we give the rest for free to groups and organisations, mostly in Wakefield and surrounding areas which have high levels of deprivation.
Our People
Processing all those donations and running our shop and eBay creates jobs, young people's work experience and volunteer opportunities which also supports wellbeing and resilience.  People think we're bigger than we are, but in fact we only have the equivalent of 2 full-time staff and a small team of volunteers!  Many of our staff and volunteers have lived experience of mental health, disability and challenging life situations.
The Journey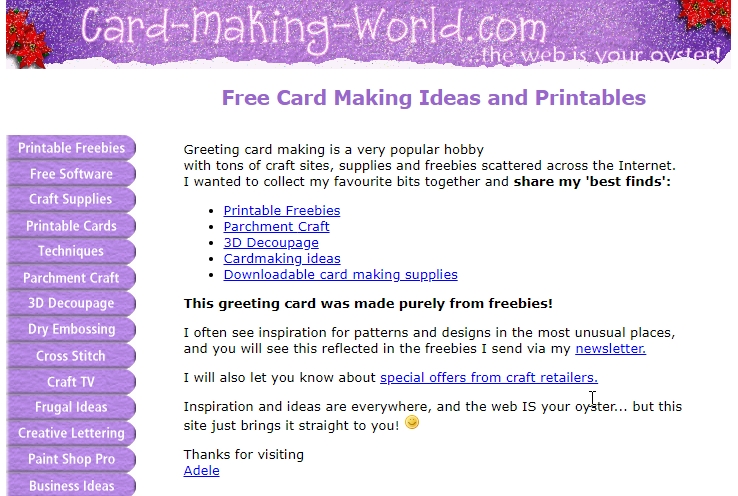 2006, the precursor to Crafting4Good CIC
Our Founder and CEO gained a Psychology BSc (Hons) from York University many years ago, with a particular interest in the more recent branch of  Positive Psychology, which looks at wellbeing and resilience.
She was a single parent for 10 years, experienced a devastating bereavement, almost lost her house and had post-natal depression but began working from home (when it was considered a very odd thing to do!).  She learned how to create websites from scratch, provided free craft resources and ran online communities.  This gave her the flexibility she needed (it was also a creative outlet and brought about 'flow', but this was only realised later!).
Creativity & Online Community
People would say how being creative made them feel better, new friendships were formed, time was spent getting lost in creating and forgetting about worries. 

If all this could happen online, imagine what could be done 'in the real world' whilst also using supplies that people no longer wanted, thereby making being creative more affordable, accessible and eco-friendly. 
Into The Real World
The journey into the offline world began with Christmas Craft sessions in a men's hostel.  It started with printable cards and crafts that she had available, but then craft donations started coming in and Crafting4Good CIC was born, in 2017.

Eastmoor Community Centre was our first home and enabled us to get our first grant from the National Lottery Awards for All. 
Playing Shops
We outgrew Eastmoor within a year and moved into proper retail premises in The Ridings, Wakefield thanks to the "Makey Wakey" partnership between The Art House and The Ridings, which supports community-based initiatives.  Our shop was a "treasure trove" for creative people, with affordable prices, free supplies and a place to come and chat.  Sadly we had to move out in July 2023.

We also now work with eBay through their eBay for Change programme for social enterprises and Fair Trade organisations around the world.
Social Impact
Locally, we've reached thousands of children and adults through affordable and free supplies given to groups and our involvement in community projects. 
We also work with an Art Therapist to provide accessible sessions around using art as therapy, exploring life through art journalling etc. 
Environmental Impact
By 2023 we had received 7 tonnes of art and craft donations, and we only started counting in 2020! 
Much of this might have ended up in landfill, but we've been able to put it to much better uses.

Articles About Crafting4Good CIC